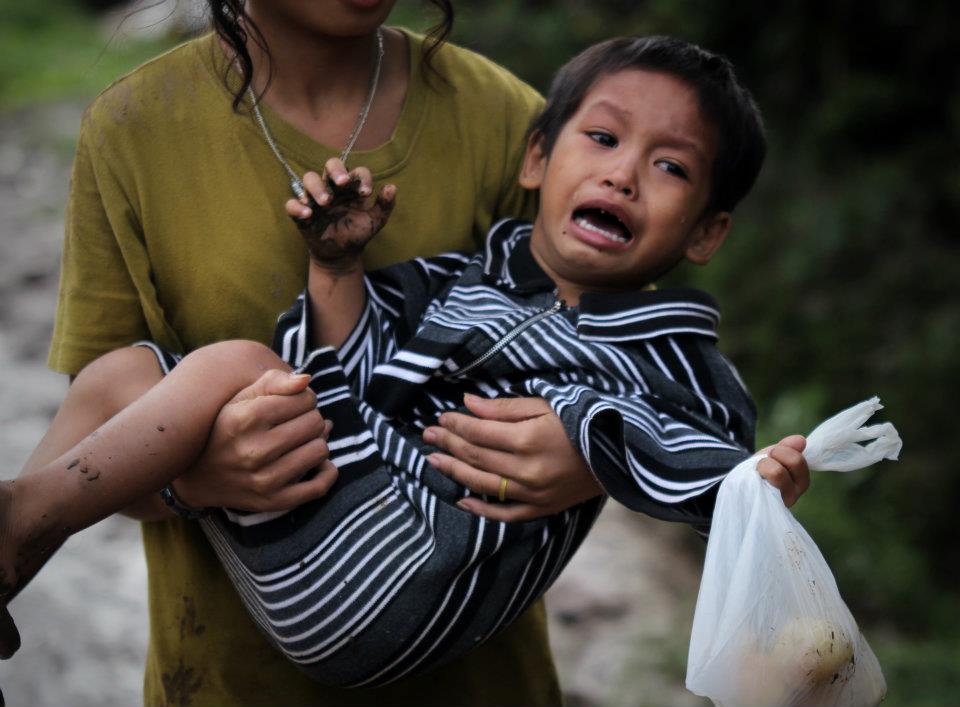 Sunday, 01 January 2012 00:00
January 1 is a holy day of obligation not because we celebrate the first day of the year, but because we honor Mary as the Mother of God.
Non-Catholics think we commit idolatry by deifying Mary. We don't. But if Mary is human and not divine, how can a mortal being be the mother of the eternal God? Indeed, only God is absolute; nonetheless, out of infinite love for humanity, the infinite God has freely chosen to become human. The eternal Son has embraced our human nature and has been born of woman. Mary's motherhood of God is certainly not about Mary becoming divine, but about God becoming truly human.
The Feast of Mary, Mother of God, is also about her blessed status. Out of all women, the lowly maiden from Nazareth was chosen to bear the eternal Son of God. However, despite having been chosen to become the mother of God-in-human-form and of having been spared from the stain of original sin, Mary was not exempted from suffering.
She risked being disowned by her parents, had they not believed her story of having been indwelt by the Holy Spirit. She risked being accused of adultery by Joseph and being stoned to death, had he not believed her claim of purity and fidelity to him despite her pregnancy. Though about to deliver any moment then, she made the arduous trek to Bethlehem for the national census. Her son hunted by a threatened king, Mary with Joseph seek asylum in Egypt. Though the Gospels are silent about it, Mary was widowed before Jesus began his ministry of preaching and healing. She became a single-parent raising the Son of God. At the foot of the cross, she lost her remaining family, Jesus, her only son.
Favored among all women, yet burdened and tested by so much suffering. Her blessedness did not exempt her from hardship and pain. Neither did her perfect discipleship to her Son.
While God did not intend the suffering of Mary throughout her life, her suffering became the seedbed for virtue to blossom. Through her silent suffering, Mary grew in faith and trust in God. While not a virtue in itself, suffering, as exemplified by the witness of Mary, can give rise to virtues.
* * *
As we reflect on the suffering of our people that Typhoon Sendong has wrought, we bear in mind that God does not design our tragedies. God does not desire our misfortune. And certainly God does not cruelly test the limits of our faith. The mystery of the incarnation reveals to us that instead of abolishing suffering from the world, God embraces our suffering. Instead of abrogating our capacity for sin, God allows himself to become the victim of our sins. Instead of vanquishing the pain of all those who suffer, God-incarnate weeps for those He loves.
While not intended or desired by God, suffering, through the work of grace, can become the catalyst for virtue to increase. God does not will our suffering and pain, but rather our growth in virtue.
We have been horrified by the pictures and videos of the tremendous suffering of our people in Cagayan de Oro and Iligan, and now in Bukidnon, Davao del Norte, Agusan, Negros Occidental and Leyte. But we have also been inspired by the heroism, self-sacrifice and generosity of countless people, mostly ordinary Filipinos.
I continue to be moved by the story of the sisters Naomi Felicilda and Sarah Benegildo who propped their bedridden mother on an upturned wooden bed and continued to steady the wooden cot as the floodwaters rushed into their house. When the waters subsided, the mother, Herminia, discovered that her two daughters had drowned while keeping her afloat on her upturned bed.
God must have wept with Herminia over the loss of her two heroic daughters. The Incarnation reveals a God who does not spare us from suffering, but opts out of love to suffer with us.
* * *
Her blessed status and fidelity to God did not make Mary immune from suffering. Nonetheless, in and through her suffering, she grew in virtue. Our faith in and fidelity to God will neither exempt us from suffering. In a world undergoing climate change, the faithful will not necessarily be spared from the destructive forces of nature.
The incarnation of Christ and the motherhood of Mary reveal to us that God is Emmanuel who suffers with us and who continues to bless us amidst our hardship and pain. For some, the blessing is found in the survival of loved ones; for others blessings are experienced in the kindness and charity of strangers who have offered food and temporary shelter. For others still, the blessing is found in becoming more and more virtuous. In the self-sacrifice of Naomi and Sarah, we glimpse the visage of the crucified Christ, loving unto death. In their total gift of selves for the sake of their mother they have become more and more conformed to Christ. Like Mama Mary, despite their suffering, in and through their suffering, they are truly blessed.
Fr. Manoling Francisco, SJ is a prolific composer of liturgical music and serves on the faculty of the Loyola School of Theology. For feedback on this column, email This email address is being protected from spambots. You need JavaScript enabled to view it..
Courtesy image source: